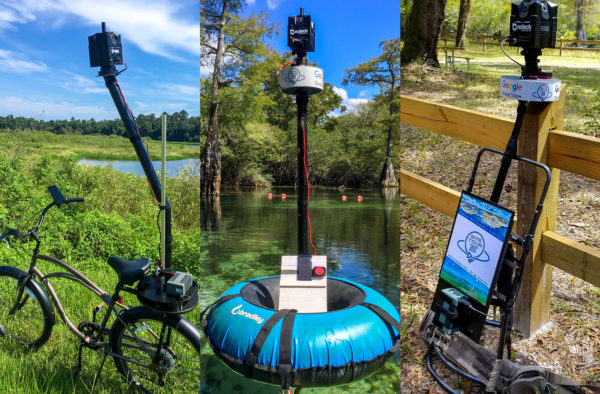 Uncategorized
Street View Without Limits: 360 Camera Mounts for Various Topography Types
SiteTour360, September 23, 2019
About a week ago, Site Tour 360 President and founder Mike Vorce, set out to collect "Street View" imagery of Rock Bluff Spring in Northern Florida. Up until then, we had completed large-scale collections by car, boat, golf cart, backpack, bike, and drone, but this narrow waterway presented a new challenge. The outcome was our newly fashioned swimming-tube mount and under-water rig. From the very start, Mike's been passionate about expanding our reach in terms of where we can effectively collect 360 Street View imagery. As a result of these numerous collection experiences, we've developed a variety of camera mounting solutions. Here's a rundown of what we've done so far:
---
Magnetic vehicle mount
This mount has proven to be very practical and quite stable. The 12 rubber coated magnetic pads offer great stability on any steel surface. And for fiberglass or plastic roofs, the rubber coated magnets work well when they are combined with roof straps. This mount is also modular in construction and parts of it are used in our other mounts.
---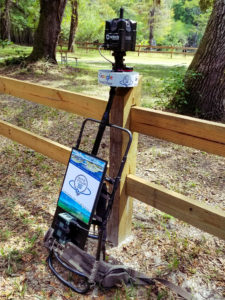 Backpack mount
This is a modified back-country backpack which is quite sturdy and is adaptable to various power supplies. It also accommodates branding materials.
---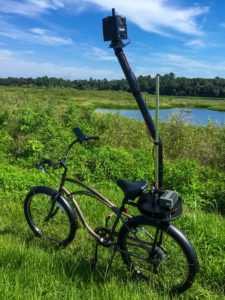 Bike mount
This is one of our newer mounts and is extremely sturdy. It utilizes the base from our car mount and a custom pole that places the camera directly over the bike driver.
---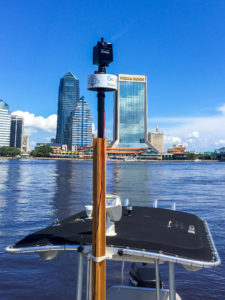 Boat mount
This mount utilizes the top of our car mount, placed on a large sturdy pole. It can easily be adjusted to make up for the pitch of the boat as it varies as the speed changes.
---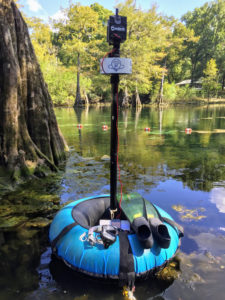 Swimming tube mount
For collecting in recreational swimming areas (especially springs) we've come up with a unique mount that is very steady and can be easily moved by a swimmer/diver/snorkeler.
---
360 Aerial Imagery
Taken with a DJI Mavic Pro.
---
Underwater captures
We've come up with a simple solution for capturing underwater 360 images by combining a compact 360 camera with a waterproof case and some unique placement and mounting methods.